Baobab Studios Valuation [Infographic]
On October 18, 2016 Baobab Studios announced its latest funding round: a Series B round of $25m. 
We analysed information about the company and its funding history to estimate its valuation – not disclosed by the company.
Company information
Description: Baobab Studios is a virtual reality company that creates story and character-driven cinematic experiences. The company was founded by Maureen Fan, who was most recently VP of Games at Zynga; and Eric Darnell, the director of such DreamWorks animated features as the four "Madagascar" franchise films and "Antz".
Website: baobabstudios.com
Founded: 2015

Headquarters: Redwood City, California

Team: 20
Funding history
$6m – Series A round in December 3, 2015 – Comcast Ventures

,

HTC Corp

,

Samsung Ventures

,

Advancit Capital

,

Presence Capital
Current round:
Amount raised:  $25m
Type: Series B
Date: October 18, 2016
Investors: Horizons Ventures, + 5 others
Valuation analysis
A number of elements contribute to the positive situation of Baobab Studios.
First of all, the industry: VR is believed to be a very promising industry by many, an inevitable technology that offers big opportunities in terms of total market size.
This factor together with the expertise, past successes and network of the founders are proving to be the company's trump card in attracting investments.
While the first funding round was mainly financed by companies focused on the production of VR devices such as HTC and Samsung, the main players of the Series B are within the movie production industry.
This is not surprising, considered that about one month ago it was announced that Baobab Studios' short "Invasion!" is to become the first VR full length animated feature film.
Generally, Series B investors require a percentage in between 10% to 25% of the company shares.
Considering the very appealing market and the expertise of the founders, the valuation of Baobab is likely on the high side of those boundaries, the 10%.
Investors also mentioned that the company has been building a particular technology focused on VR and storytelling. It could be another significant advantage towards competitors and another contribution to a higher valuation.
The resulting estimated valuation of Baobab Studios is $167m (in case if 15%), with a low bound of $125m (20%) and a high bound of $250m (10%).
What is your company valuation? Try Equidam for FREE and find out!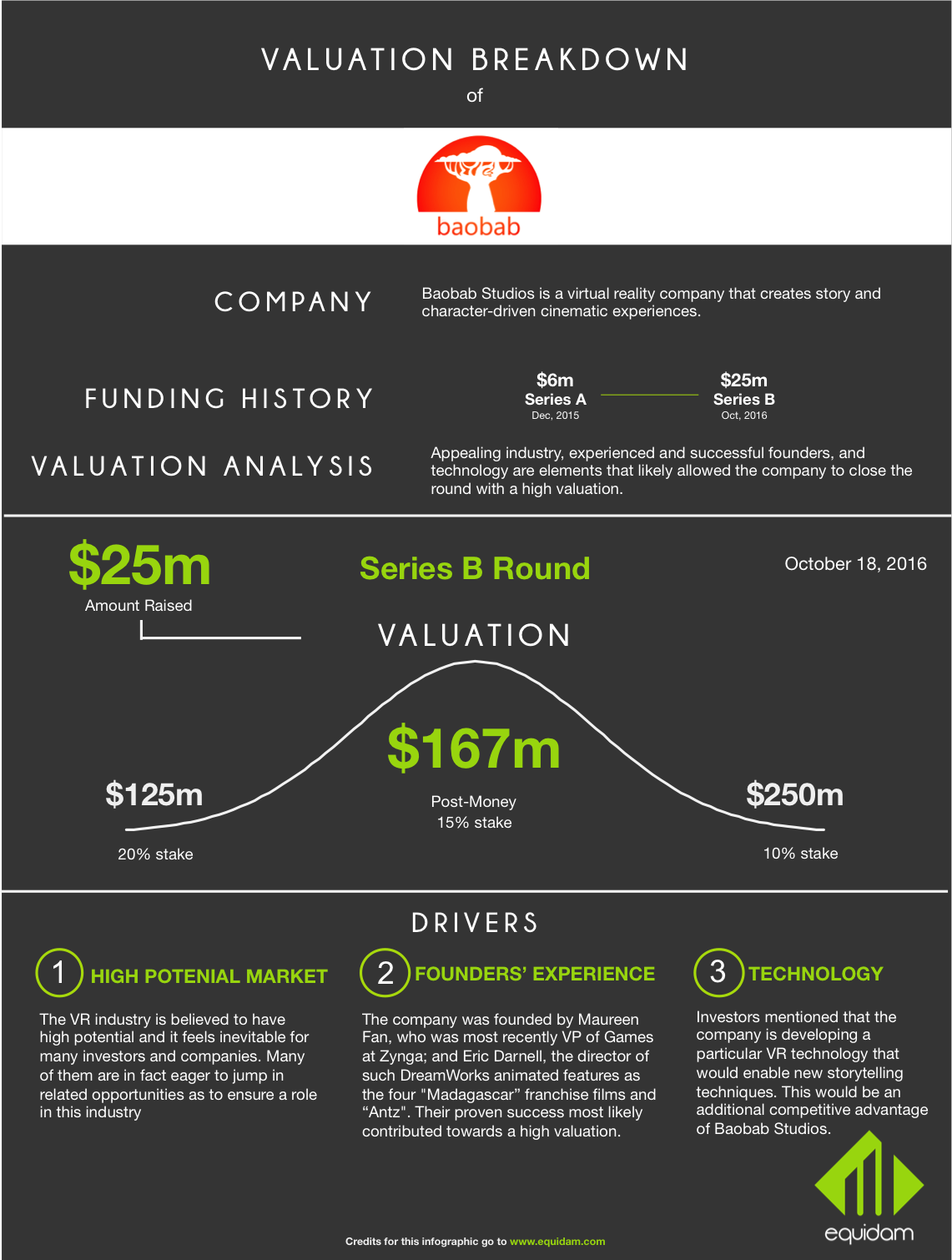 You can check out the most recent funding rounds here. Let us know in the comments if you would like Equidam to analyse one of them!
Check out Equidam past valuation breakdowns of other companies here!
By the way, in case you haven't seen it already, her is  "Invasion!", Baobab's short movie that made headlines in the past month.