Is Big Data becoming too crowded? Platfora raises 30m in an extension of their Series C funding round
Following the valuation breakdown of CB Insights, we continue with an overview of the latest funding round of another company involved in Big Data analytics.
The Company
Platfora, the big data analytics startup from San Mateo, CA, just announced an extension of their Series C round for a total of $30m to boost its growth, especially outside the U.S. The capital came as a follow up round from Platfora's previous investors Allegis Capital, Andreessen Horowitz (co-lead Series A), Battery Ventures (co-lead Series A), Citi Ventures, Cisco, Sutter Hill Ventures, Tenaya Capital (lead Series C), and saw the participation of HSBC and Harmony partners. As a consequence, the company totals more than $95 million funding to-date. Let's take a look at the valuation for this funding round.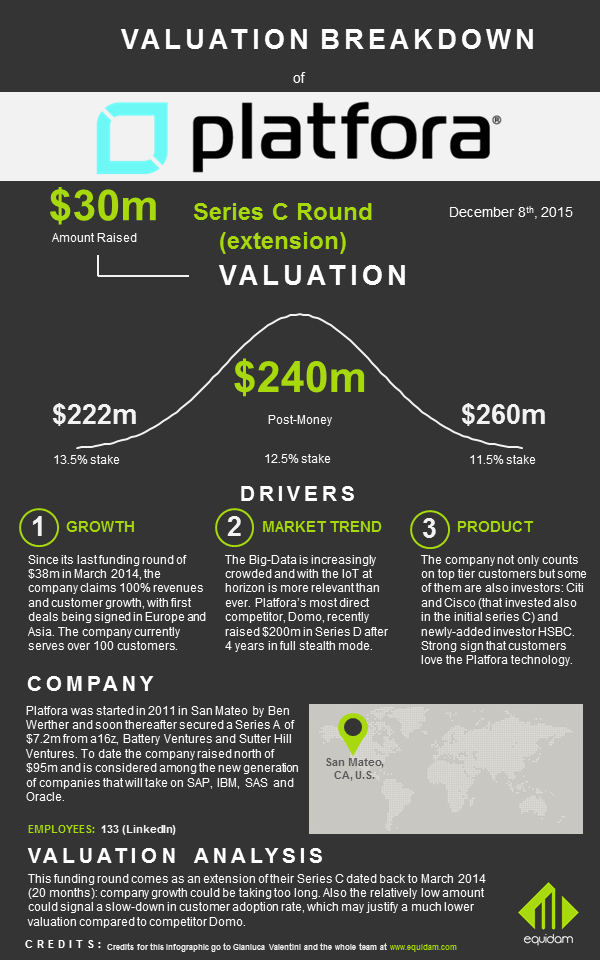 Product
The interesting thing about Platfora is that most of its non-VC investors are also customers. Cisco and Citi being the pioneers, followed by HSBC. Platfora's management seems particularly pleased with this since it signals strong product loyalty and even stronger incentive to contribute to its future development.
Growth&Market
This funding round does leave some doubt on the company's performance, though. This funding round, although initially not announced by the company, is an extension of their Series C dated back to March 2014(20 months). The amount raised is also lower than befoire($30m compared to $38m). This could be a signal of a slow-down in customer adoption rate. Thus, the company might be growing at a steady rate, however, the growth might be taking too long. These figures could be concealing a hard truth for any big date company out there: the market is getting crowded. Also, CEO Jason Zintak makes no secret that the capital will be used to expand the company's worldwide presence, meaning that the home market is probably too competitive (or worse, saturated). Domo, probably Platofra's closest competitor, raised $200m in July 2015 and plans to tackle the same U.S. customers Platfora serves, jeopardizing customer adoption rate and growth. In this light, the company is planning to expand its staff at its London office and seek penetration in Europe.
Valuation Analysis
All considered, the current round seems a "mild" growth capital round, more of a follow-up rather than a proper "exponential growth" one. The company seems to be transitioning to new, relatively unproven geographies and the current base of investors, along with few additions, want to fuel the company during this process. We estimate a stake of approximately 12.5%, which seems the right compromise between the growth achieved, the capital raised and the previous estimated valuations. According to our estimates, the valuation rose to $240m from the previous $190m ($38m of capital in exchange for 20% stake), approximately 25% increase over 20 months.